My Blog
Posts for tag: toothache
By Artistic Dentistry
March 26, 2019
A toothache can indicate several things but is most often the sign of a heavily decayed tooth. Though many people believe that they
should not see their dentist until they experience a toothache, this unfortunate situation is actually one of the final stages of tooth decay. Find out more about toothaches and why you shouldn't ignore them with Dr. Michael Pugh at Artistic Dentistry in Huntsville, AL.
What can a toothache indicate?
The tooth is made up of three main parts: the hard enamel outer surface, the softer dentin under the enamel, and the pulp chamber which lies deep within the tooth. The inner pulp chamber houses the tooth's soft tissues, including its nerves — the part of the tooth which feels pain. If the nerve becomes damaged, exposed, or infected by tooth decay, it causes a toothache.
When do I need to see my dentist for a toothache?
Though many people believe that a toothache is the push they need to schedule a dentist's appointment, this is actually the end stage of a condition which can be easily treated in its earlier stages — before it becomes painful. The American Dental Association recommends that you see your dentist twice a year for examinations and preventative cleanings. These appointments help you avoid a toothache by removing the decay-causing substances from the teeth and ensuring that the decay does not eat its way through the tooth to infect the inner pulp chamber.
Toothache Treatments in Huntsville, AL
If you experience a toothache, chances are you have a heavily decayed tooth. In this case, a root canal — a dental treatment which removes the inner tissue from the tooth's pulp chamber — becomes necessary. This process takes about an hour and is accompanied by a local anesthetic to ensure you do not feel any discomfort.
For more information on toothaches and when you should see your doctor, please contact Dr. Michael Pugh at Artistic Dentistry in Huntsville, AL. Call (256) 536-3386 to schedule your appointment with Dr. Pugh today!
By Michael S. Pugh, DMD
November 27, 2012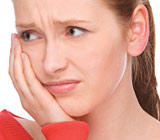 Tooth pain occurs when a trauma or infection triggers a reaction from the nerves inside a tooth's pulp chamber. The severity of the pain and its duration can vary depending on the underlying cause, which can include anything from a loose filling to an abscess. Ignoring symptoms not only results in unnecessary physical and emotional pain, but can also lead to more expensive dental treatment as problems become more complex. Make an appointment with our office today if you are experiencing any of the following symptoms:
Sharp pain when biting down on food — This type of pain could be indicative of a cracked tooth, loose filling, or tooth decay that is affecting one or more of your teeth. We can remove decay and replace a loose filling, but if your tooth is cracked, we will have to determine the location and depth of the crack before formulating a treatment plan. In some cases, root canal treatment or even extraction may be necessary.
Pain that lingers after eating hot or cold foods or liquids — Mild and short-term sensitivity (lasting only seconds or a minute) to hot and cold foods resulting from gum recession can often be soothed by using a fluoride toothpaste made for sensitive teeth. However, an inflamed tooth pulp or one that is dying due to severe decay could cause sensitivity that lingers for a long time after exposure. In this case, root canal treatment may be necessary to remove dying pulp tissue in order to save the tooth.
Constant severe pain and pressure, swelling of the gums, and sensitivity to touch — Infections and/or abscesses can spread from the tooth pulp into the surrounding periodontal tissues and bone causing this type of pain. Root canal treatment will most likely be required.
Dull ache and pressure on one or both sides of the face in the upper teeth region — The sinuses and upper back teeth share the same nerves, so, oftentimes, referred pain from sinus congestion or infection can feel like a toothache. A thorough examination can determine whether or not the pain is dentally related.
If you are experiencing tooth pain, call our office immediately so that we can begin to provide you with some relief. To read about other symptoms of tooth pain and possible treatment options, read the Dear Doctor magazine article "Tooth Pain? Don't Wait!"
By Michael S. Pugh, DMD
September 04, 2011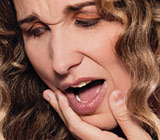 When it comes to tooth pain, it is important to identify two things: what is causing your pain and what can be done about it. In some instances you can handle it yourself at home; however, for others, you should contact us so that we can diagnose and treat the problem. See how much you really know about tooth pain by taking our true/false test.
It is perfectly normal to experience tooth sensitivity to hot and cold foods for a few days after dental treatment.
True or False
If you experience sharp pain when biting down on foods, you should hold off on contacting us to see if the pain gets better on it own.
True or False
Tooth pain is caused by a reaction of nerves inside the tooth's enamel with the severity of the pain dependant upon the type and degree of the stimulus.
True or False
Generally speaking, pain is a protective response that ranges from minor to severe as a way of informing the body that something is wrong.
True or False
If a tooth's root surface is sensitive, you should use a firm toothbrush to ensure that you are keeping the area clean by thoroughly removing dental bacterial plaque.
True or False
Lingering pain after eating hot or cold foods and liquids probably means that the pulp within your tooth is probably damaged or inflamed as a result of deep tooth decay or injury from a physical trauma.
True or False
Regarding tooth sensitivity, you should only contact us if the pain persists for several months because this is not likely to be anything serious.
True or False
If a tooth's pulp becomes damaged or dies, you will need a root canal.
True or False
With tooth pain, knowing how long to wait before you contact us can save physical, financial and emotional stress.
True or False
People often confuse tooth and sinus pain because they both can feel the same — a dull ache with pressure in the upper teeth and sinus area on one or both sides of the face.
True or False
Answers: 1) True. 2) False. You should contact us asap for an examination before the pain worsens. 3) False. The nerves are located in the tooth's pulp chamber. 4) True. 5) False. Use a soft bristled toothbrush not a firm one. 6) True. 7) False. While tooth sensitivity generally does not signal a serious issue, if it persist for days or worsens, contact us. 8) True. 9) False. Early interception is best. 10) True.
To learn more, continue reading the Dear Doctor magazine article "Tooth Pain? Don't Wait!" Or contact us today to schedule an appointment to discuss your questions.