My Blog
Posts for tag: sealants
By Artistic Dentistry
March 04, 2016
If you're like most parents, helping your children avoid cavities is a priority. An application of dental sealants is a simple way to keep tooth decay away from molars. Michael S. Pugh, DMD, your Huntsville, AL, family dentist, answers a few questions about sealants.
Why are sealants needed?
Back teeth contain little grooves and recesses that make it easier to grind food into tiny pieces. Unfortunately, those grooves are often so tiny that they can't be reached by a toothbrush. When plaque builds up in those areas, tooth decay can occur.
What are sealants?
Dental sealants help prevent cavities much the same way that a coat of polyurethane seals and protects wood from damage. They fill in those little grooves and smooth out the chewing surfaces of the back teeth. Sealants offer a long-lasting, almost invisible layer of cavity-fighting protection for molars and pre-molars. They are a made of plastic resin, a substance that is not only strong enough to protect teeth, but perfectly safe for your child. Sealants can remain on the teeth for as long as 10 years.
Are sealants just for children?
Sealants are recommended for children because newly erupted molars are initially a little fragile and more susceptible to tooth decay. Sealants provide the protection your child needs to avoid cavities in these important teeth, but anyone of any age can benefit from this treatment. Dental insurance typically covers sealants for children, but not adults.
How are sealants applied?
Before the sealants are applied, an etching solution is placed on the teeth. The solution makes it easier for the liquid sealants to adhere to the teeth. Your dentist uses a small brush to paint sealants on to the chewing surfaces of the molars, and then uses a small blue light to cure the sealants. In just a few minutes, the sealants harden and provide a strong, durable layer of protection for back teeth.
Are you interested in protecting your family's teeth with sealants? Call your Huntsville, AL, family dentist, Michael S. Pugh, DMD, at (256) 536-3386 and make an appointment today.
By Michael S. Pugh, DMD
December 11, 2011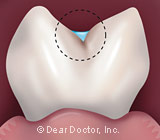 Wouldn't it be wonderful if you could put up a protective shield to guard your children's teeth from decay? Think of the time and money you would save, not to mention the pain your children would avoid. Well, it turns out that you can put up such a protective shield — or at least, we, your dental professionals, can.
The natural protective mineral coating (the enamel) of a child's new teeth is more permeable to the acids that dissolve minerals and cause decay, so the new teeth are more vulnerable to tooth decay than mature teeth are. As a tooth's enamel matures it becomes more resistant and stronger. Thus it is important to protect the surfaces of the new teeth when they erupt (grow up through the child's gums).
The back teeth, particularly, often erupt with deep grooves in them. The backs of the top front teeth may also have such grooves, which dentists call "pits and fissures." When the grooves are deep, they are hard to keep clean. Toothbrush bristles may not be able to reach to the bottoms of the grooves; and bacteria may gather in them, releasing acid byproducts that dissolve tooth enamel and start forming decay.
Dental sealants are among the preventive options we have in the war against decay in your child's new teeth. Regular tooth brushing and flossing, regular dental visits, application of fluoride, and low sugar consumption are also important in decay prevention techniques.
Sealants are protective coatings placed in the tiny pits and fissures to seal them off from bacterial attack. Some dentists routinely seal all permanent molar teeth and many primary (baby) molar teeth soon after they erupt.
Some dentists use sealants only when an examination shows that decay is just starting or very likely to start in a particular tooth. In such cases a minimal amount of tooth enamel is removed to eliminate any decay, and a mini-resin, invisible filling is applied.
Contact us today to schedule an appointment to discuss your questions about dental sealants for your children. You can learn more about them by reading the Dear Doctor magazine article "Sealants for Children."
By Michael S. Pugh, DMD
May 01, 2011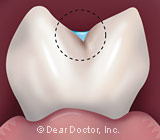 The eruption of your child's first permanent teeth is a milestone in his or her development. As parents, you want to help your child preserve and protect their new permanent teeth so that they can last a lifetime. Dental sealants are one easy, simple, and inexpensive way to protect them from decay.
How do cavities develop?
The back teeth (premolars and molars) are formed with deep grooves on their biting surfaces that we call "pits and fissures." These crevices are too deep for toothbrush bristles to reach. Bacteria can therefore grow and thrive inside them. The acid produced by these bacteria begins to dissolve the tooth enamel, starting the decay process.
Are new teeth more vulnerable?
Yes, the enamel surface of newly erupted teeth is more permeable and less resistant to tooth decay. As the enamel matures, it becomes more resistant.
How can you prevent decay in these new teeth?
Good oral hygiene habits, nutrition (including low sugar consumption), together with fluoride, sealants, and regular dental visits strengthen the teeth and can dramatically reduce tooth decay.
How does fluoride protect these teeth?
Fluoride makes the enamel surface harder and more impermeable and, therefore, less susceptible to acid attack and decay. Fluoride adds some protection to the deep pits and fissures of the teeth but they are still at high risk because of their shape and they often need further protection.
What are sealants and how do they work?
Sealants are protective coatings placed in the tiny pits and fissures to seal them from the bacteria and acids that promote decay. They actually "seal" the pits and fissures to prevent decay and can be used in the treatment of very early decay by arresting it. Greater use of sealants could reduce the need for subsequent treatment and prolong the time until treatment may become necessary.
Contact us today to schedule an appointment or to discuss your questions about dental sealants for your children. You can learn more about them by reading the Dear Doctor magazine article "Sealants for Children."