My Blog
Posts for tag: gum disease
By Artistic Dentistry
June 09, 2020
Keeping your gums healthy isn't that difficult. It starts with these helpful steps…
If your gums are constantly inflamed this could be because there is a serious infection lurking under the gums that could lead to bone, tooth and gum loss if left untreated. Since periodontitis is the leading cause of tooth loss in adults, it's important to be able to recognize the warning signs of gum disease as soon as possible so you can make an appointment with our Huntsville, AL, dentist Dr. Michael Pugh.
Some signs of gum disease include,
Red, inflamed gums
Swollen, tender gums
Bleeding gums, particularly when brushing and flossing
Chronic bad breath
Receding or shrinking gums
Pockets between the teeth and gums
A change in the way teeth fit together
In the very beginning, you may only notice that your gums look a little red or puffy. If inflamed gums do not go away after a couple of days it's important that you see your Huntsville, AL, family dentist to find out if it could be gum disease.
Can you prevent gum disease?
Gum disease can certainly sound pretty scary when you think about it; however, if you maintain good oral hygiene you probably won't have to worry about it. Just like decay, gum disease can be prevented with good oral care. If you want to prevent gum disease from happening to you here are some rules to follow,
Brush at least twice a day (for at least two minutes each time)
Floss once a day
Use fluoride toothpaste
Rinse with an antibacterial mouthwash
Eat a healthy, balanced diet
Quit or avoid smoking
Limit alcohol consumption
Are there risk factors for gum disease?
Some factors that could increase your risk for gum disease include,
Hormonal fluctuations (pregnant and menopausal women are at an increased risk)
Smoking or using tobacco products
Diabetes
Misaligned or crooked teeth
Certain medications
Genetics
Poor diet
Poor oral hygiene
If you're on the hunt for a dentist in Huntsville, AL, that can provide you and your family with the dental care you deserve for a healthy smile then call Dr. Michael Pugh today at (256) 536-3386 to schedule cleanings and checkups for the whole family.
By Michael S. Pugh, DMD
July 01, 2012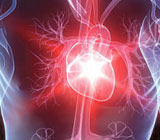 Recent research has revealed that there is a link between cardiovascular ("cardio" – heart; "vascular" – blood vessel) disease (CVD) and periodontal (gum) disease. The link is Inflammation. This is why it is important to learn more about this important relationship so that you can take proactive steps to improving your health and life.
What causes periodontal disease?
Simply put, irregular and ineffective brushing and flossing are the root causes of periodontal disease. Over time and when bacterial biofilms (dental plaque) are left unchecked, they lead to the emergence of a small set of highly pathogenic ("patho" – disease; "genic" – causing) organisms that are consistently associated with periodontitis ("peri" – gum; "odont" – tooth; "itis" – inflammation) or gum disease.
Is periodontal disease common or am I one of the few who have it?
It is a quite common disease, with mild to moderate forms of it impacting 30 to 50% of US adults. More severe cases affect 5 to 15%. One of the reasons these numbers are so high is because periodontal disease is a silent, painless disease that often occurs without any symptoms.
So how does my gum disease link to potential heart disease?
Inflammation is a characteristic of chronic disease. People with moderate to severe periodontitis have increased levels of systemic (general body) inflammation. If left untreated, the same bacterial strains that are commonly found in periodontal pockets surrounding diseased teeth have been found in blood vessel plaques of people with CVD.
This all sounds bad...is there any good news?
Yes! Research has revealed that if periodontal disease is treated, inflammation and infection can be reduced. This also reduces the risk for heart attacks and strokes, both of which are common results of CVD. All it may take is a thorough exam for gum disease and thorough dental cleaning. During your exam, we can also make sure you are brushing and flossing properly so that you are effectively removing bacterial biofilm. But if you have severe periodontal disease, you may need deeper cleanings and more advanced treatment to save your teeth and your heart.
To learn more on this subject, continue reading the Dear Doctor magazine article "The Link Between Heart & Gum Diseases." You can also contact us today with any questions or to schedule an appointment.