My Blog
Posts for tag: fillings
By Michael S. Pugh, DMD
September 26, 2012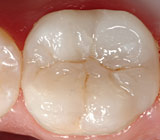 While the goal of restorative dentistry is to return all of the destroyed or lost dental tissues of the teeth to full form (shape) and function, when you blend this goal with the artistry of cosmetic dentistry, the results can be dazzling. Today's modern techniques and materials enable replacement of missing tooth structure that allows bonding directly to the tooth so that it not only is an exact color match but also actually strengthens the tooth. And tooth-colored fillings are not just for front teeth. They can dramatically improve the appearance of all teeth — even your back molars — so that it appears you've never had tooth decay at all!
All of this is accomplished through the use of either tooth-colored dental porcelain or composite resins. Porcelains are a form of ceramic material formed by the action of heat. They are available in many colors and shades made from a powder corresponding to the primary color of the natural tooth structure that is mixed with water and placed into an oven for firing (hence their ceramic nature). When built up in layers by highly trained dental ceramicists, they can be made to mimic the exact natural translucency, staining and contours of tooth enamel.
Dental composite resins are the most common materials used for tooth-colored adhesive restorations today and have properties similar to tooth structure. They consist of resin or special plastics and fillers that are made of silica, a form of glass. The fillers give the composites wear resistance and translucency (see through properties).
It is important to note that besides providing the appearance of beautiful teeth, properly restored teeth function and wear better. But most important to you, they appear indistinguishable from natural teeth! Furthermore, scientific studies and clinical experience have validated their use as both safe and predictable. In fact, these techniques are also suitable for children's teeth and can incorporate fluoride to reduce decay. Together, all of these changes have so significantly impacted the way modern dentistry is practiced that many believe we may have entered into the so-called "post-amalgam (silver metal-colored dental fillings) era."
Contact us today to schedule an appointment to discuss your questions about tooth-colored fillings. You can also learn more by reading the Dear Doctor magazine article "The Natural Beauty of Tooth Colored Fillings."
By Michael S. Pugh, DMD
October 09, 2011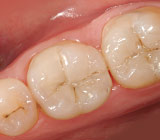 When you say "ahhhhh," are you worried about all your unsightly metal fillings? If so, did you know that your dentist can resolve your concerns through the use of tooth-colored fillings?
The public's demand for aesthetic tooth-colored (metal free) restorations (fillings) together with the dental profession's desire to preserve as much natural tooth structure as possible has led to the development of special adhesive tooth-colored restorations. And the demand is not limited to just the front teeth. In fact, many people are opting to replace all of their metal fillings — not just those in the front teeth — so that all of their teeth appear younger, fresher and as if they have never had any cavities.
Can you really mimic natural teeth? Proper tooth restoration is a lot more than just filling holes. It is a unique art applied with scientific understanding. Each tooth's internal shape and structure is the guide to how it must be rebuilt to successfully restore it. However, choosing which material to use to restore or rebuild teeth is a critical one based on scientific understanding, experience and clinical judgment — expertise we use daily in our office. The most popular options include composite resins and porcelains, as they allow us to mimic natural tooth colors and shapes. But for the most life-like, natural tooth-colored filling, your best option is porcelain. Porcelain, which is built up in layers, can be made to mimic the natural translucency and contours of tooth enamel.
But what about matching the color? Will it really match? Absolutely! Whether we use resins or porcelain, through our artistry we will create absolute tooth-like replicas. You will never know your teeth have fillings! And unlike metal alloys, these newer materials bond directly to the remaining enamel and dentin of which the teeth themselves are made, thus stabilizing and strengthening them. These techniques are even suitable for children's teeth and can incorporate fluoride to reduce decay.
Still undecided? If so, we understand. Feel free to contact us today to schedule an appointment to discuss your questions about tooth-colored restorations. You can also learn more by reading the Dear Doctor magazine article "The Natural Beauty of Tooth-Colored Fillings."