My Blog
Posts for tag: dental fillings
By Michael S. Pugh, DMD
April 01, 2022

What type of filling do I need? Why do I need it? These are just a couple of questions you may have about dental fillings, and your dentist has the answers.
Dr. Michael Pugh of Artistic Dentistry in Huntsville, AL, offers a wide range of dental services, including dental fillings to renew your smile.
So, let's look at a few of the reasons you might need a filling:
Tooth decay; this is the most common reason why your dentist will recommend a filling. You need a filling if tooth decay has spread to the layer underneath the enamel, called dentin.
An old filling needs repair; dental fillings may not last forever. Over time, the margins of the filling can break down, letting in bacteria, which can cause decay under the filling.
You are experiencing root sensitivity; the roots of your teeth are much softer than the crowns of your teeth. Over time, these roots can become exposed. Air, temperature, and foods or beverages can all make your roots sensitive. A filling is a good way to seal up the root surface.
We offer tooth-colored fillings that are made with composite, a material that can be matched to the color of your teeth.
To learn more about how fillings can renew your smile, contact Dr. Michael Pugh of Artistic Dentistry in Huntsville, AL. You can reach us by calling (256) 536-3386, so call today!
By Artistic Dentistry
June 27, 2018
Discover some of the warning signs that might mean you have a cavity.
No one wants to deal with a cavity; however, it's one of the most common dental problems that both kids and adults face. In fact, about 91 percent of American adults between the ages of 20-64 had at least one cavity in 2012; however, our Huntsville, AL, dentist, Dr. Michael
Pugh, wants to make sure you get the dental care you need to ward off cavities and also to treat them should they happen to you.
So, you might be wondering about the most common signs and symptoms of a cavity. After all, the sooner you discover these warning signs the sooner you can seek treatment. Unfortunately, sometimes cavities surface and we don't even know it. That's why making sure you visit your Huntsville general dentist every six months is the best way to know whether or not a cavity has surfaced. Even before a cavity surfaces, we will be able to pinpoint decay. In some instances, if we catch the decay soon enough it can be reversed with the proper oral care and maintenance before it turns into a full-blown cavity.
Of course, this doesn't mean that cavities can't sometimes cause symptoms such as a toothache or sudden tooth sensitivity. You may even notice a small brown or black spot on the tooth. If you notice any of these symptoms then it's time to call your dentist as soon as possible.
How is a cavity treated?
If we do detect a cavity it will need to be treated right away. The only way to get rid of a cavity is to remove the decay. After the decay is completely removed we will need to restore the tooth both for strength and appearance. To do so we will place a dental filling.
More often than not we will place a tooth-colored dental filling because it most closely resembles the look and shade of natural tooth enamel. The filling is a special dental resin that is matched to the color of the tooth before it is applied in layers over the drilled areas of the tooth.
The resin is moldable so we can easily shape and contour it. After each layer is applied it is hardened into place with a special dental laser. Once the tooth is fully restored by the filling we will give the tooth a good polish so that the resin shines just like your natural tooth enamel.
Don't let a cavity ruin your smile. Turn to Dr. Michael Pugh in Huntsville, AL, if you believe that you might have a cavity. The sooner you seek dental care for problems the better when it comes to the health of your smile. Call our office today.
By Michael S. Pugh, DMD
August 12, 2012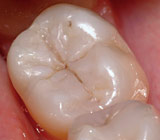 Until recently anyone who needed to repair cavities in his or her teeth ended up with a mouth full of "silver" fillings. Dental amalgam, which has a silver appearance, was the tooth restoration material of choice. Amalgam, a combination of metals including silver, mercury, and other metals, is still used — but today there are other options that mimic the original teeth they are restoring.
You may have read about some people's concerns about the mercury used in dental amalgam. According to the American Dental Association (ADA), scientific studies have found no ill effects arising from using dental amalgam in fillings for adults or children: "While questions have arisen about the safety of dental amalgam relating to its mercury content, the major US and international scientific and health bodies, including the National Institutes of Health, the US Public Health Service, the Centers for Disease Control and Prevention, the Food and Drug Administration and the World Health Organization, among others have been satisfied that dental amalgam is a safe, reliable and effective restorative material." Dental amalgam is still used for molars (back teeth) that must withstand heavy pressure from chewing.
For teeth that are more visible, materials that look and perform more like the original teeth — and are thus more pleasing in appearance — are now available. Dentistry is now taking a "biomimetic approach" (from words meaning "life mimicking"). The new materials — composite resins and porcelains — look like teeth because in many ways their structure imitates the biologic structure of teeth.
Composite resins are made of a plastic material (methacrylate) combined with fillers made of silica, a form of glass. They are able to bond to natural tooth structure and resemble the dentin, the inner layer of the tooth, which has a porous structure similar to bone.
Dental porcelains are a form of ceramic. They are non-metallic materials formed by the action of heat, like the ceramics used in porcelain cups and bowls. They come in a powder form that is mixed with water, shaped, and then placed in an oven until they reach the proper hardness. The end product is translucent and very hard, resembling the densely packed crystals of calcium that make up a tooth's normal outer layer, the enamel.
The old amalgam fillings required removal of tooth material to prepare a site in which they could be placed. Composite resins and porcelains can be used to treat teeth that have small or large amounts of damage to their natural substance because the materials bond directly to the remaining dentin and enamel. Thus they end up stabilizing and strengthening the restored tooth, as well as providing a natural-looking appearance.
Contact us today to schedule an appointment to discuss your questions about tooth colored fillings. You can also learn more by reading the Dear Doctor magazine article "The Natural Beauty of Tooth Colored Fillings."