My Blog
Posts for tag: dental crowns
By Artistic Dentistry
May 03, 2018
Crowns offer an excellent solution if you're concerned about a flaw in your smile or want to stabilize a damaged tooth. Huntsville, AL,
dentist Dr. Michael Pugh explains how you can improve your smile with a crown.
What are crowns?
Crowns are made of durable porcelain and look just like natural teeth. They're hollow inside, which allows them to fit over your teeth easily. Dental technicians create your new crown using an impression of your mouth made in our Huntsville office. Before the impression is made, the tooth is reduced in size slightly. While you wait for the dental laboratory to create your crown, you'll wear a temporary crown. Your permanent crown is attached to your tooth with dental cement after a few minor adjustments are made.
Are crowns a good choice for me?
You may benefit from a crown if:
You don't like the way your tooth looks: Crowns are often used to completely change the appearance of a tooth. They offer an excellent solution if you want to improve the appearance of a twisted or crooked tooth or would like to conceal a discolored tooth.
You had a root canal: Crowns are usually recommended if you've had a root canal. Although root canal therapy saves your tooth, removing the pulp in the center of the tooth weakens it. Crowns add strength and stability, protecting your tooth from cracks or fractures.
Your tooth is cracked: Constant pressure from chewing and biting can eventually cause cracked teeth to fracture. When you top your tooth with a crown, the restoration absorbs the biting forces and protects the tooth underneath.
Your tooth is fractured: Fractured teeth can be easily restored with crowns. Adding a crown not only improves your appearance but makes eating easier.
Your tooth is too short: Has one of your teeth always been shorter than surrounding teeth? A crown offers a simple way to extend it. Crowns are also a good choice if your teeth have become shorter due to grinding while you sleep.
You lost a tooth: Crowns anchor dental bridges used to replace missing teeth and are also added to dental implants. A dental implant bonds to your jawbone and acts as a replacement root. The addition of a crown to the top of the implant restores the appearance and function of the missing tooth.
Crowns protect and improve your smile. Call Huntsville, AL, dentist Dr. Michael Pugh at (256) 536-3386 to schedule an appointment.
By Artistic Dentistry
March 21, 2017
Are you ready to learn more about what these restorations could do to enhance your smile?
Dentistry has certainly come a long way over the centuries. We can do everything from brightening smiles to replace missing teeth.
Despite all the amazing advancements in technology, there are still some restorations that stand the test of time. The appearance, function and materials may change, but the overall idea remains the same. From the office of our Huntsville, AL, dentist Dr. Michael Pugh, learn more about these tried-and-true restorations.
Crowns and bridges can work together or separately. You may need a dental crown if you are faced with a damaged tooth. Teeth that become cracked, chipped or broken could sustain more damage or become weaker over time. They need something to cover it to protect it. This is where a crown comes in. A crown is made to look just like a real tooth and can even be made from tooth-colored materials so that no one will even know you have a restoration.
Dental bridges, on the other hand, are used to replace missing teeth. This restoration will actually use crowns to support the bridge and secure it into place. The crowns and bridge will be made from impressions taken of your mouth. Once the dental lab has created these restorations you will come back in so your Huntsville, AL, general dentist can fit you with your new dental work.
If you are getting a dental bridge the crowns will be cemented over the teeth that surround the gap. Before you get your bridge we will need to assess the overall health of your smile to make sure those teeth are strong enough to support dental crowns and a bridge. Once the crowns are cemented into place the false teeth are then bonded in between the crowns.
While we would love for any dental restoration to last a lifetime, at some point you will have to have your crowns and dental bridge replaced. This is why it's important that you continue to follow up with us every six months for routine exams to make sure your restoration is still healthy. We will also provide you with a list of ways to care for your new restoration so that it can last you a long time.
Artistic Dentistry in Huntsville, AL, is dedicated to improving and restoring your smile. Whether you require cosmetic changes or full-reconstructive treatments, we are here to give you a healthy smile that lasts. Call our office today.
By Michael S. Pugh, DMD
August 14, 2011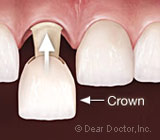 Creating a dental crown that looks good and wears well is not an easy achievement. It is the result of good communication you, the patient, have with us, your dental professionals, and that we have with the dental lab that manufactures the crown. In addition, it reflects the quality of work done by us and by the lab technician.
What is a dental crown?
A crown is a dental restoration that surrounds the remains of a damaged tooth or is attached to a dental implant so that it resembles a natural tooth as it extends above the gum line. The choice of materials and appearance of the crown depend upon many factors. One is the location of the crown. If it is in the back part of your jaw, strength and wear will be a major factor. If it is in the front, a life-like appearance will be important.
What goes into making a good-looking and functional crown?
Options for crown materials include porcelain, gold, porcelain fused to metal (called PFM) and some newer materials such as "pressed-ceramic" restorations and computer-milled-ceramics.
You as the patient can have a say in choosing the crown's color and appearance. Before it is cemented into its final position, make sure you are happy with the feel and appearance of your new crown.
Gold is often chosen for crowns on back teeth because of its superior wear qualities. Gold crowns have been known to last more than 50 years. They also cause minimal wear to the teeth that they touch on the opposing jaw.
Crowns made of porcelain (a glass-like substance fired in an oven at a high temperature) look good but may be too brittle to stand the wear and forces given to back teeth. Like glass, they can fracture under pressure. But because of their lifelike appearance they make a good choice for visible front teeth.
PFM (porcelain-fused-to-metal crowns) are a good combination of the best of gold and porcelain, but they sometimes lose the stains applied to make them look natural, and occasionally they fracture away from the metal.
A provisional crown can help you make sure you are getting a crown with the qualities you want. With the provisional crown all the details are worked out ahead of time, and you get a chance to try them out to make sure the crown looks good and that you can eat and talk normally. After you give your approval on the provisional crown, the final crown will be made to match it, in longer-lasting and better quality components.
Contact us today to schedule an appointment to discuss your questions about crowns and other dental restorations. You can also learn more by reading the Dear Doctor magazine article "Gold or Porcelain Crowns."