My Blog
Posts for tag: crowns
By Artistic Dentistry
July 11, 2016
Are you ready to find out if crowns and bridges can treat your tooth loss?
Dealing with a damaged smile or tooth loss? Not sure what to do? Then turn to our Huntsville, AL family dentist Dr. Michael Pugh for the
answer.
What are dental crowns?
A crown is a tooth-shaped hollow cap that fits over the entire crown of a tooth that has been damaged. Crowns are used to strengthen and restore the tooth and can also be used to improve a tooth's appearance (e.g. color; shape). Crowns can be made from a variety of materials but ceramic or porcelain crowns are usually the most popular because they can be matched to your natural tooth for a seamless, realistic look.
What are dental bridges?
Our Huntsville general dentist may recommend a dental bridge if you are missing one or more permanent teeth. Gaps where teeth used to be can cause the rest of your smile to shift out of place, causing a bad bite. In order to prevent this problem, you'll want to choose a tooth replacement like bridges that can fill the gap and prevent teeth from moving out of place.
When it comes to securing a dental bridge, two crowns are placed over healthy teeth on either side of the gap and cemented to the false tooth or teeth in the center to fill the gap and replace missing teeth.
How do crowns and bridges work together to replace missing teeth?
Before you get a bridge or crown your teeth will need to be prepared for the new restoration. This means shaving the tooth down so that the crown can fit over the tooth properly. Once enough enamel has been removed impressions are taken of your teeth to create a crown and bridge that will fit your smile. If we are using porcelain we will also determine the right shade to match the rest of your teeth.
From the impressions taken, a dental lab will make your crown and/or bridge. In the meantime, we will place a temporary crown or bridge over the prepared tooth or teeth until your permanent restoration is made. When the permanent crown or bridge is finished we will remove the temporary one and then cement the new restoration into place.
Have questions about crowns and bridges? Ready to find out if they are the right treatment for you? Then call Artistic Dentistry today and let Dr. Pugh know that you're ready to get restorative dentistry. We are proud to serve the Huntsville, AL area!
By Michael S. Pugh, DMD
October 31, 2012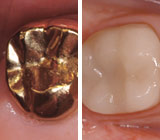 If you believe you need a crown or if we have already confirmed this fact, you need to understand that there are several options. The most common are gold crowns, porcelain-fused-to-metal crowns and all porcelain crowns. Each has both pros and cons; thus we will work with you to determine which will work best for your specific needs. However, to help you learn more now, here are some facts.
Gold Crowns
Made from cast gold, this type of crown has been around for over 100 years and is the most successful type of crown. It can last more than 50 years and thus many dentists prefer gold restorations for their own teeth, where cosmetics is not a concern.
All Porcelain Crowns
All porcelain crowns can produce an incredible, life-like appearance. However, because they are made purely from dental porcelain (a type of glass), they tend to be more fragile than gold crowns and may be more at risk with certain high biting forces. Thus they may not be as durable. Porcelain can also cause wear to the natural teeth they bite against. Therefore they are typically preferred for front teeth, rather than back teeth. They have an aesthetic longevity of about 10 years and a functional longevity of about 20 years.
Porcelain-Fused-To-Metal Crowns
As the name states, porcelain-fused-to-metal (PFM) crowns provide the best of both worlds. They are made of natural tooth-colored dental porcelain that is fused on top of a precious or noble metal (usually gold or platinum). They are stronger than porcelain alone and are a good option for back teeth because they offer a better cosmetic result than gold crowns. This is also true for front teeth, however the gold support beneath the porcelain can compromise its life-like qualities. These crowns also have a proven track record and have been used with excellent results for over 40 years.
Learn more about crowns when you read, "Gold or Porcelain Crowns." Or you can contact us today to discuss your questions or to schedule a consultation.
By Michael S. Pugh, DMD
April 11, 2011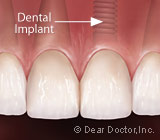 If you have missing teeth, dental implants are the state-of-the-art tooth replacement system. They act as substitutes for natural tooth roots, stabilizing the bone with which they fuse and become integrated with. This protects the remaining bone and prevents its further loss, the natural occurrence after the natural teeth are lost. Done correctly, implants can offer a long-term solution to the problem of missing teeth.
Key factors assuring dental implant success are having an experienced dental team consisting of:
A surgeon (periodontist or oral surgeon, or dentist trained in surgical techniques to place the implants)
A dental technician who will design the crowns (tooth portion of the implant)
A restorative dentist to place the crowns
The whole team is necessary to plan the process as well as carry out their individual roles. They will ensure that there is enough bone and that it is in the right place prior to treatment to allow for proper implant position, and that the implant/s are correctly placed, which is necessary to allow for natural aesthetics and proper function.
Replacing missing teeth is imperative to maintaining normal oral health and function. Dental implants will help support the entire structure of the face. If back teeth are lost, the vertical height of the lower face and mouth can begin to collapse, negatively impacting biting function and causing creasing and cracking of the lips and facial skin, resulting in a prematurely aged look.
Implants differ from bridgework in several ways, making them the most favorable option for tooth replacement in many cases. For starters, they do not affect adjacent teeth, nor do they decay like teeth, and they are less susceptible to gum disease. In the long-term, implants are a more cost-effective solution based on the fact that once they are placed, their life expectancy is longer than bridgework.
If you have missing teeth that have negatively affected your appearance, self-confidence, and ability to chew, call us today to talk about the possibility of replacing them with dental implants. To learn more about the use and capabilities of dental implants, read the Dear Doctor magazine article "Dental Implants: Evaluating Your Options For Replacing Missing Teeth."