My Blog
Posts for tag: bad breath
By Michael S. Pugh, DMD
August 30, 2012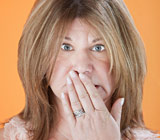 Having someone tell you that you have bad breath can be humiliating, but it can also be a sign that you need to see your dentist. Bad breath (or halitosis) can be a sign of an underlying dental or health problem, so before you run out and stock up on breath mints, make an appointment with our office. Using breath fresheners will only disguise the problem and not treat the root cause.
It's important to remember that if you have bad breath, you're not alone — it's the third most common reason people seek a dental consult. We use a systematic approach to determine the cause of your halitosis and offer a solution.
Causes: Ninety percent of mouth odors come from mouth itself — either from the food you eat or bacteria that may be present. Most unpleasant odors originate from proteins trapped in the mouth that are processed by oral bacteria. When left on the tongue, these bacteria can cause an unpleasant smell. Dry mouth, sinus problems, diet and poor oral hygiene can also cause bad breath. In rare cases, a medical condition may be the cause.
Treatment: The best solution will depend on determining the real cause of your halitosis. If bad breath emanates from the mouth, it most commonly is caused by gum disease or even tooth decay, which need to be treated to correct the problem. If halitosis is of systemic (general body) origin, a more detailed examination might be needed from a physician. But the solution may also be as simple as demonstrating how to effectively remove bacterial plaque from your teeth, or offer instruction on proper tongue cleaning. If the cause is gum disease, we may suggest a deep cleaning and possible antibiotic therapy.
Contact us today to schedule an appointment to discuss any questions you may have regarding bad breath. Read more about this topic in the Dear Doctor magazine article "Bad Breath: More Than Just Embarrassing."
By Michael S. Pugh, DMD
January 23, 2012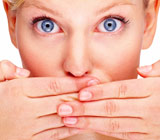 More than 2,000 years ago, an ancient Greek physician, Hippocrates, often called the father of Western medicine, devised a mouth rinse of herbs and wine to sweeten bad breath. This problem has been around a long time, and it is still a major problem for many people. According to some studies it is one of the three main reasons people seek dental treatment.
Here are some facts you may not know about bad breath:
Bad breath is sometimes called halitosis, which comes from the Latin halitus (exhalation) and the Greek osis (a condition or disease-causing process).
Chronic bad breath is usually caused by certain types of oral bacteria. These particular bacteria are present in about 25% of the population.
Bad breath has spawned a major industry in the United States. Americans spend nearly three billion dollars a year on gum, mints, and mouth rinses to sweeten their breath. About 60% of women and 50% of men say they use breath freshening products.
Diseases in the oral cavity such as tooth decay and periodontal (gum) disease can often cause bad breath. If either of these diseases are your cause for bad breath, treatment would be necessary to eliminate this problem.
The tongue is the most common location for bad breath. Bacteria are relatively sheltered on the back of the tongue, where they live on remnants of food, dead skin cells and post-nasal drip. These bacteria can generate volatile sulfur compounds (VSCs) that are also found in decaying animal or vegetable matter. VSCs are known by an unpleasant rotten egg smell.
Bad breath can also be caused by dry mouth (xerostomia). This condition affects millions of people and can result from smoking, alcohol or coffee drinking, and it is sometimes a side effect of medications. Another cause may be mouth breathing.
Halitosis can also originate in other parts of the mouth besides the tongue. These include inter-dental (between teeth) and sub-gingival (under the gums) areas.
When people are starving (and sometimes when they are dieting to lose weight), their bodies begin burning their fats causing their breath to develop the smell of ketones — which smell like acetone, similar to nail polish remover. If people are not eating or drinking the coating on their tongue increases as well, making VSCs more prominent.
At our office, we want to fight bad breath or halitosis by making sure our patients understand how to clean their teeth, gums, the back of the tongue, and dentures.
Contact us today to schedule an appointment to discuss your questions about bad breath. You can also learn more by reading the Dear Doctor magazine article "Bad Breath: More than just embarrassing."