Father's Day Tip: Step Up & Improve Your Dental Health!
By Michael S. Pugh, DMD
August 07, 2012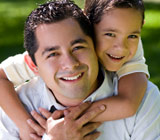 The role of fatherhood comes without a handbook for the answers to all of life's challenges. Instead, we're left to figure everything out on our own. For most dads, this means being the primary or head of a household that ensures everyone has at a minimum the very basics — a roof over their head and food on the table everyday. However, recent research has revealed that while fathers may be providing most of that, they fall short healthwise when compared to moms in the areas of both oral and general health.
Here are some basic facts (or areas of concern) men need to understand:
Men are more likely to have a heart attack than women.
There is growing research that links periodontal (gum) disease and heart disease.
Men tend to put off seeing a dentist for routine exams and cleanings but rather wait until they have a problem before making an appointment.
Many heart and blood medications can cause dry mouth, which can increase the risk of tooth decay and gum disease.
If you use tobacco and are an older male, you are twice as likely as women to develop oral cancer.
And with exercise, men tend to select activities such as basketball, dirt biking, soccer and football — all of which have a greater risk for trauma to the mouth and teeth.
The Good News...
One of the first steps you can take to get your health back on track is to contact us today to discuss your questions or to schedule a consultation. Other steps you can take include:
Asking us to teach you the proper brushing and flossing techniques so that you are equipped to prevent or combat periodontal problems.
Making an appointment for a dental cleaning.
Asking us about ways you can protect your teeth and mouth if you actively participate in high contact activities.
Speaking to us about a proper diet for both your oral and general health.
Starting a workout regimen that includes a slow start and working out for 20 minutes at least 3 or 4 times a week if you are not currently exercising regularly.